On 3 September 2021, as the only summit forum held by international organizations during the 2021 China International Fair for Trade in Services (CIFTIS), 2021 WTCF Beijing Fragrant Hills Tourism Summit & World Conference on Tourism Cooperation and Development opened in Beijing with the theme of "Revitalizing World Tourism and Energizing City Development". It was held by the World Tourism Cities Federation (WTCF) together with the world's major international organizations and tourism institutions. Over 360 guests from around the globe met each other, shared experiences of promoting tourism recovery and revitalization, as well as offered their insight into supporting the sustainable development of global tourism.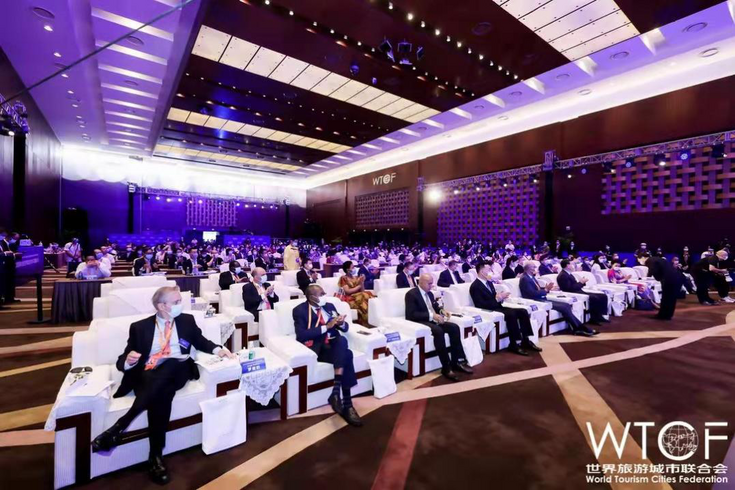 2021 WTCF Beijing Fragrant Hills Tourism Summit & World Conference on Tourism Cooperation and Development
The event included seven parts, namely Opening Ceremony, Global Perspective, Special Forum, Keynote Speech, Release of Research Results, Dialogue on Sustainable Development of Tourism Cities, and Forum Session. It was livestreamed online to the whole world, especially more than 200 WTCF members in over 150 cities of 78 countries and regions. The offline meeting and live streaming were supported with 5 languages, namely Chinese, English, French, Spanish and Russian. At the event, WTCF released two key research results, World Tourism Cities Development Report 2020 and Agenda for the Future Development of World Tourism Cities (2021-2030), enhancing experience sharing for the joint fight of global tourism cities and tourism enterprises against the pandemic, a comprehensive recovery and the sustainable development of global tourism.
Deepening International Cooperation and Boosting Global Tourism Recovery
As the world's first international tourism organization centered on cities, WTCF has been playing a leading role in enhancing cooperation among global cities, and supporting new development of city tourism after the pandemic. Centered on themes including tourism recovery and development after the pandemic, WTCF has, by holding forums like "2021 WTCF Euro-Africa Regional Conference - Dialogue between Cities and Chinese Enterprises" and "New Normal, New Practices", summarized successful experience of promoting tourism recovery and development under the new normal of pandemic prevention and control, and provided insight into improving city tourism experiences.
In 2021, thanks to gradually strengthened pandemic prevention and control around the world, domestic tourism markets in most countries are beginning to recover, and the world has seen hope in global tourism recovery.
Zurab Pololikashvili, Secretary-General of the World Tourism Organization, noted that the successful event has shown the world that global tourism is regaining vitality and confidence. Another important message is that tourism is fully prepared for a robust restart and will further tap its own potential to support the inclusive and sustainable development of cities around the world.
Julia Simpson, President & CEO of the World Travel & Tourism Council (WTTC), sent her congratulatory message stating that the event was highly relevant at this time since numerous industry leaders met each other, discussed how to deal with future challenges, and shared successful experience for the quick recovery of tourism.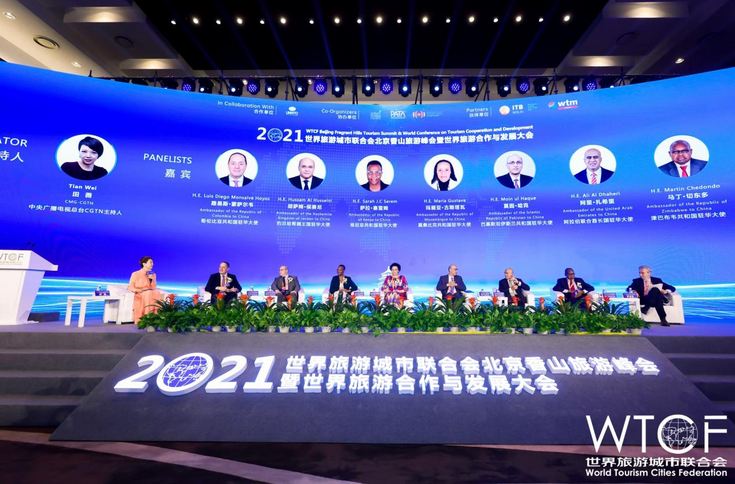 Special Forum: Ambassadors' View on Tourism
At the event, H.E. Maria Gustava, Ambassador of the Republic of Mozambique to China, noted that Mozambique has been vigorously developing domestic tourism, launching a COVID-19 vaccination campaign, offering vaccination certificates and encouraging overseas tourists to visit the country. H.E. Luis Diego Monsalve Hoyos, Ambassador of the Republic of Colombia to China, stated changes in travel laws and regulations, tax reduction, energy saving have contributed to a remarkable rebound in Colombia's tourism. Cristiano Varotti, Chief Representative of Italian National Tourist Board Shanghai Office, mentioned that Italy has offered fiscal subsidies to tourism enterprises and applied digital technologies to tourism services, in order to support the country's tourism development. Hon. Jorge Romeu, Charge d'Affaires of the Embassy of the Kingdom of Spain in China, pointed out that Spain has reacted in time and supported independent travel involving small groups in low-density areas, so as to attract more international tourists.
Amidst the pandemic, countries must join hands to take effective measures. Hu Heping, Minister of Culture and Tourism of China, suggested all sides should work harder for mutual benefits and win-win outcomes, better utilize platforms represented by WTCF and Beijing Fragrant Hills Tourism Summit, and promote bilateral, multilateral and regional tourism exchanges and cooperation.
Building New Tourism Modes and Improving Quality of Tourism Cities
Tourism cities are a core part of global tourism, and they are of great significance for global pandemic prevention and control as well as tourism recovery. Big data, the Internet and smart technologies will set the trend for the future development of world tourism cities since they are the key to dealing with changes in consumption habits and tendencies as well as improving the quality of tourism cities.
Due to the pandemic, changes have taken place in people's tourism concepts, consumption patterns and travel methods. Wei Xiao'an, Chief Expert of WTCF Expert Committee, observed that new consumption phenomenon will increase over a long time, bringing into being new city consumption modes. Under the new normal of pandemic prevention and control, new consumption phenomenon are becoming more common, such as urban leisure, popular micro-vacation in rural areas and overseas consumption backflow. Cities in Europe, America and China have been adjusting tourism modes to meet the new consumption needs. He suggested that the world tourism cities should build new tourism modes featuring development of surrounding tourism markets, local tourism and "internal circulation".
Regarding the intensification of smart management of cities and upgrading quality of tourism cities, Zhang Zhenshan, UN-Habitat Programme Manager for China, believes that tourism cities should prioritize the people, promote smart development according to their own conditions, avoid the digital divide, improve service quality, strengthen smart platform regulation, focus on ensuring information security, enhance cooperation and exchanges for international tourism development.
Dieter Scharf, China Marketing Manager of Austrian National Tourist Office, noted that building smart cities is of great significance and will benefit development of tourism, scenic spots and cities.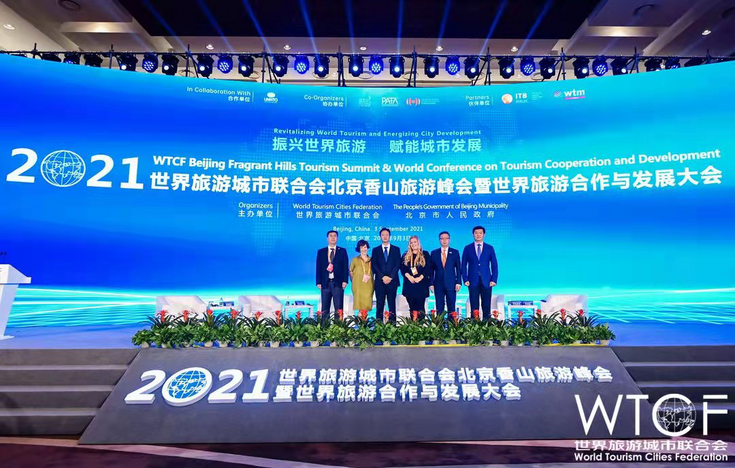 Panelists attend the innovation and integration sub-forums at 2021 WTCF Beijing Fragrant Hills Tourism Summit & World Conference on Tourism Cooperation and Development
Promoting Business Form Innovation and Making Changes Happen in Global Tourism
The tourism sector is a comprehensive economic system featuring openness and inclusiveness and waiting to be further developed. Due to the pandemic, the people now prefer short-distance tourism, decentralized tourism, customized tourism and tourism in low-density areas. With expedited integration of tourism with relevant industries including culture, sports, education, science and technology, agriculture and health, global tourism is entering a new round of transformation and innovation.
Bai Fan, General Manager of Beijing Tourism Group, shared his views on this issue. "In both industry integration and enterprise integration, integrated innovation and technological empowerment are the key to promoting high-quality and innovative development of cultural tourism". Concerning how cultural tourism industries and enterprises shall enhance business form innovation and promote integrated industry development, Bai Fan suggested focusing on markets, prioritizing cultural development, supporting innovation, improving content and services, adhering to green, environmentally-friendly concepts, and facilitating the integration of industrial and financial capital.
María Llinares, Tourism Counselor of the Embassy of the Kingdom of Spain in China, shared Spain's innovative practices of promoting sustainable tourism development. She believed that innovative forms can offer tourists better experiences and increasing utilization rate of facilities will help promote the sustainable development of tourism.
In terms of seeking new tourism investment opportunities in the post-pandemic era, Zhang Shumin, President of OCT Tourism Investment & Management Co., Ltd., believed integrated development covering multiple fields represented by "Tourism + Technology", "Tourism + Culture", "Tourism + Internet", and "Tourism + Finance" will offer golden opportunities, since governments around the world are vigorously developing tourism and driving business form innovation.
At the Global Trade in Services Summit of the 2021 CIFTIS held on 2 September 2021, the Chinese President Xi Jinping stated in his video speech, "We will work with all other parties to uphold openness, cooperation, mutual benefit and win-win, share opportunities in the growth of services trade, and promote world economic recovery and growth." The recovery and development of tourism services, the most dynamic part of trade in services, require deep cooperation among countries around the world. The long road ahead is full of obstacles but we will never stop going forward. As international organizations represented by WTCF are taking the lead, and tourism departments and industry associations are closely working together, global tourism will soon regain its great vitality and global tourism economy will witness greater development.