【Introduction】:On September 3rd, four special dialogues were held in the 2019 World Tourism Cities Federation (WTCF) Helsinki Fragrant Hills Tourism Summit where guests from China and other countries had exchanges and discussions on the topic of "The New Vitality Created by Smart Tourism From the Perspective of Globalization. "
On September 3rd, four special dialogues were held in the 2019 World Tourism Cities Federation (WTCF) Helsinki Fragrant Hills Tourism Summit where guests from China and other countries had exchanges and discussions on the topic of "The New Vitality Created by Smart Tourism From the Perspective of Globalization. "
WTCF Helsinki Fragrant Hills Tourism Summit organized these dialogues to discuss how global cities renowned for tourism equip their locations with smart solutions, and how they can distribute natural and cultural resources in a sustainable way. Through digital technology, relative equipment, and by involving stakeholders who provide and share and information, innovative products can be provided to tourists while improving the quality of life of urban residents. This activity focuses on the potential of smart tourism, as well as new vitality and trends garnered by cutting edge tools, digital platforms and a new business mode.
The first and second dialogues were hosted by Xin Benjian, Editor of the News Coordination Department of People's Daily. Focusing on the dialogue theme of "City Innovation Practice of Smart Tourism", Tia Hallanoro, Director of Digital Development and Brand Communications of Helsinki City Tourist & Convention Bureau, Shu Zhan, General Manager of Tencent Culture &Tourism, and Kaj Pyyhtiä, Co-Founder, Chief Strategic Partnerships Officer, Whim /MaaS Global, respectively, shared their feelings and experiences in developing smart tourism in cities from the perspective of combining science and technology with tourism destinations. Tia Hallanoro and Shu Zhang mainly introduced "Chengshi Xingnang", a mini program in Wechat jointly developed by Helsinki City Tourist & Convention Bureau and Tencent. Back in 2017, during the World Tourism Cities Federation Los Angeles Fragrant Hills Tourism Summit, Helsinki signed a tripartite cooperation agreement with the World Tourism Cities Federation and Tencent to jointly build an overseas smart tourism service pilot city. On New Year Eve of 2018, the "Helsinki Chengshi Xingnang" WeChat mini program was officially launched. It integrates the functions of scenic spot introduction, shopping, gourmet, Chinese tours, one-touch help-assistance, translation, tax refunding, and provides integrated services for overseas Chinese. On June 25, the Chengshi Xingnang mini program added the new service of traffic ticket online purchasing, becoming the first overseas mini program that offers local traffic ticket services. Chinese tourists can purchase public transportation tickets including ferries and trolleys online through WeChat payment. Tia Hallanoro said, "Chinese tourists will feel at home when they come to Helsinki. Digital experience can enable tourists to realize point-to-point transfers, thus having access to convenient transportation and payment, while greatly improving the traveling experience".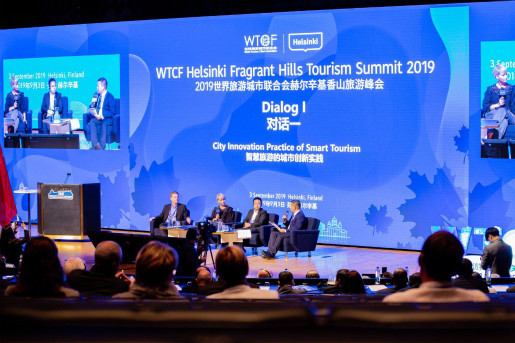 The first dialogue "City Innovation Practice of Smart Tourism" Photo by WTCF
The guest of the second special dialogue was Qian Jiannong, Fosun Global Partner, Chairman and CEO of Fosun Tourism Group. Focusing on the theme of "Resource Integration Energizes Intelligent Development of Tourism Destinations", he took Fosun Toursim Group's acquisition of the French resort brand Club Med as an example, analyzed the importance of resource integration for the intelligent development of tourism destinations.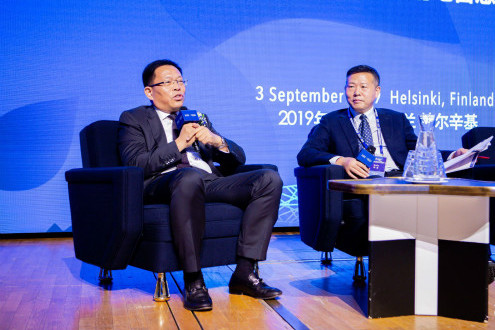 The second dialogue "Resource Integration Energizes Intelligent Development of Tourism Destinations" Photo by WTCF
The guests of the third and fourth dialogues were experts from the WTCF and Masahiro Takamatsu, Executive Director and Chief Research Officer of JTB Tourism Research Consultancy Co. In the special dialogue session on "Smart Tourism City Development: Challenges and Opportunities", Sandra Carvao, Chief of Tourism Market Intelligence & Competitiveness, UNWTO, took the lead, emphasizing that smart tourism development plays a very important role in enhancing the competitiveness of the city. At the same time, she believed that "in the process of tourism development, we should also listen to the voices of the citizens, treat tourists as temporary residents of the city, and strengthen the construction of urban infrastructure." Rudy Salles, Vice Mayor of Nice, France and Alberto Sacco, Deputy Mayor of Turin, Italy also shared their views on the opportunities and challenges of smart tourism city development. Rudi Salles said, "In order to improve tourists' experience, Nice is committed to innovative development of tourism. It uses AI and other high-tech means to develop applications that can integrate all city services, so that tourists can get real-time information of famous city scenic spots, and get to know the locations of shared bicycles and electric vehicles, etc. These measures have made Nice a model of innovative development in Europe."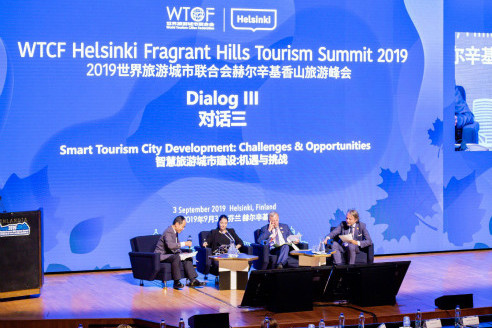 The third dialogue "Smart Tourism City Development: Challenges and Opportunities" Photo by WTCF
The guest of the fourth special dialogue was Umberto Fugiglando, Research Manager and Partnership Lead of MIT's Senseable City Lab". He shared the theme of "People, Bits and Bricks: the Senseable City". He believes that the construction of smart cities depends more on the power of science and technology, while perceivable cities are more humanized and closer to the needs of tourists.
The fourth dialogue "People, Bits and Bricks: the Senseable City" Photo by WTCF