【Introduction】:We share the view that to strengthencooperation and services of the cruise tourism industry, cultivate and nurture the cruise tourism market and build a complete and sustainable cruise industrial chain not only broadens the prospect of world tourism industry but also contributes to the development and progress of the global economy. Building on this common understanding, we have reached the following consensus
Qingdao, China, 16 May 2016
Today, tourism port cities and tourism organizations from across the world are gathered here at the General Assembly of the Committee of Cruise Industry of World Tourism Cities Federation (WTCF) for an important discussion on the future of cruise tourism industry consistent with the WTCF vision ofBetter City Life through Tourism. We share the view that to strengthencooperation and services of the cruise tourism industry, cultivate and nurture the cruise tourism market and build a complete and sustainable cruise industrial chain not only broadens the prospect of world tourism industry but also contributes to the development and progress of the global economy. Building on this common understanding, we have reached the following consensus: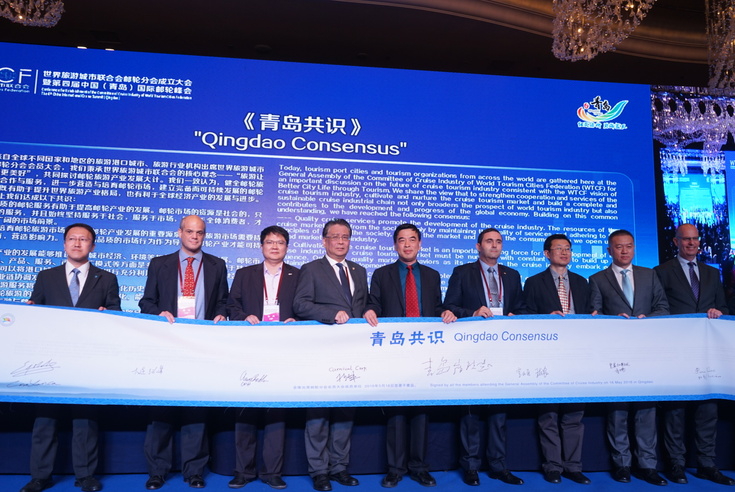 ----Quality cruise servicespromote the development of the cruise industry. The resources of the cruise market come from the society. Only by maintaining the quality of services, and adhering to the principles of serving the society, serving the market and serving the consumers, can we open up a broad market for the industry.
----Cultivation of the cruise tourism market is an important driving force for the development of the cruise industry. The cruise tourism market must be nurtured with constant effort to build up its influence. Only with quality market behaviors as its guide, can the cruise industry embark on a sustainable path of development.
----The development of cruise industry promotes balanced growth of economic, environmental and other related industries of tourism cities. There is great diversity in the cruise market in terms of destinations, products, services and marketing models. Unlike other means of tourism, cruise tourism makes full use of the tourism resources of port cities, and promotes balanced growth of economic, environmental and other related industrial chains of tourism cities.
----Cruise tourism services facilitate friendly exchanges and cultural interactions between cities and regions with different ethnic, cultural and historical backgrounds. With expanded outreach, systemic development and enhanced quality, cruise tourism can promote the integration and mutual respect between peoples at the emotional, cultural and civilization levels.
We call on the members to develop clear methods and pathways for deeper integration, pursue inclusive, shared, innovative and sustainable development, and take all necessary actions to remove the obstacles of communication and cooperation.
We hope that by aligning the Qingdao Consensus of the Committee of Cruise Industry with the Beijing Consensus of WTCF and with the recognition of all the participants, we can usher in aprosperous future for the tourism industry we all share
Signedby all the members attending the General Assembly of the Committee of Cruise Industry on 16 May 2016 in Qingdao