【Introduction】:On September 2, the World Conference on Tourism Cooperation and Development 2023, hosted by the World Tourism Cities Federation (WTCF) and the People's Government of Beijing Municipality, will be held at the China National Convention Center in Beijing.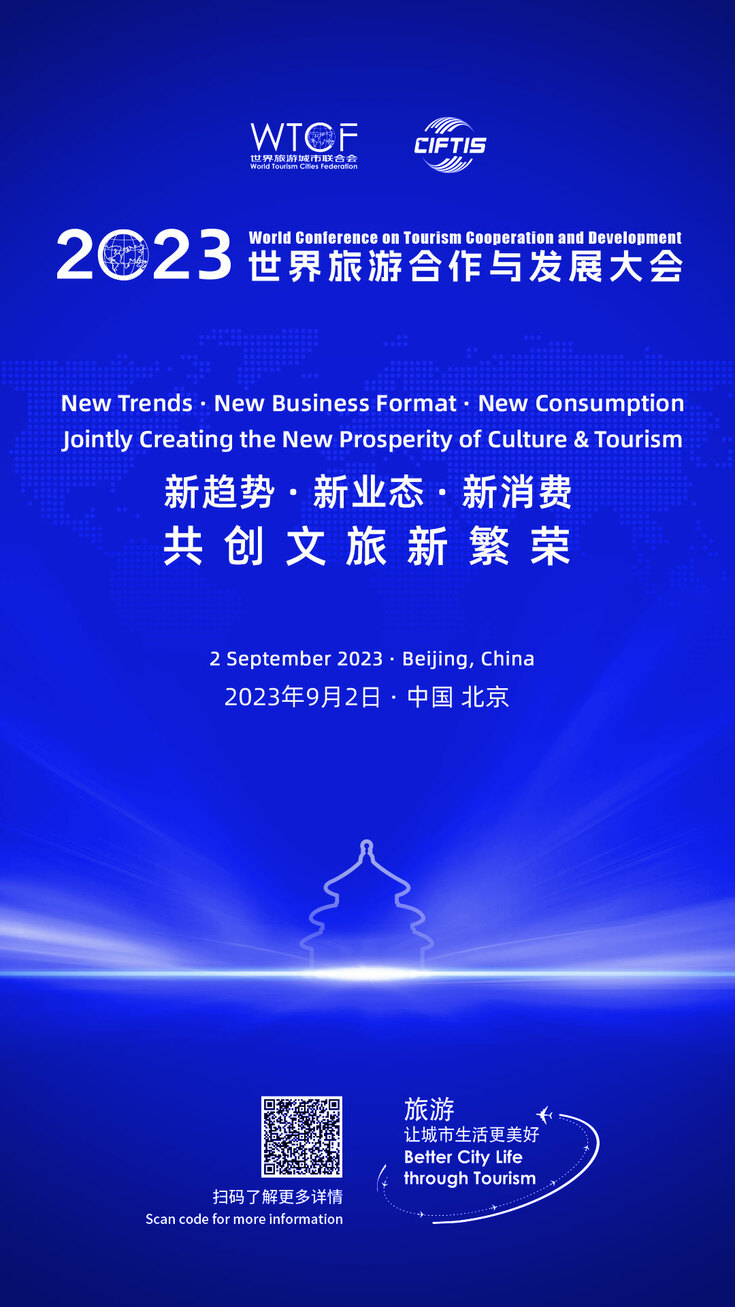 On September 2, the World Conference on Tourism Cooperation and Development 2023, hosted by the World Tourism Cities Federation (WTCF) and the People's Government of Beijing Municipality, will be held at the China National Convention Center in Beijing. This conference, themed "New Trends, New Business Format, New Consumption: Jointly Creating the New Prosperity of Culture & Tourism", features four sections including the opening ceremony, mayors' dialogue, research release, and thematic speeches. It aims to drive world tourism cities to embrace new trends, seize new opportunities, adapt to new business formats, contribute to new forms of consumption, and work together to usher in a new era of shared prosperity with an innovative mindset, distinctive decisions, and creative practices. Representatives from the global tourism industry will gather at the conference to contribute insights and strategies to promote the development of global tourism cities and further foster prosperity in the global tourism industry.
A Gathering of Influential Figures Showcasing Platform Advantage
As one of the ten summit forums of the China International Fair for Trade in Services (CIFTIS), this conference is a gathering of influential figures. Yin Yong, Mayor of Beijing and Chairman of WTCF council will deliver an opening speech. José Luis Sanz Ruiz, Mayor of Seville of Spain, Pansy Ho, Vice Chairman and Scretary-General of Global Tourism Economy Forum (GTEF), and Kolinda Grabar-Kitarović, the former president of the Republic of Croatia, will also deliver speeches. The event will host nearly 400 attendees across about 30 countries and regions at the China National Convention Center, including heads of international organizations, representatives of state ministries, city and institutional members of WTCF, media agencies, renowned tourism enterprises, and investment institutions. Together, they will explore the new developments in the culture and tourism industry.
At present, it requires tourism cities, international organizations, and tourism enterprises to actively explore and work together to adapt to the new trends, develop new business formats, stimulate new consumption, and promote new prosperity in the culture and tourism industry. As the first global tourism organization that centers on cities, WTCF has consistently taken a leading role in collaborating with other international organizations and building a platform for world tourism cooperation and exchanges. In this conference, WTCF will continue to serve as a platform to support the global tourism industry in understanding new trends, discovering new development opportunities, and guiding the tourism market to transition from recovery-oriented growth to sustained prosperity.
Gathering Industrial Insights to Explore the Path to Prosperity
New business formats and models of tourism consumption are invigorating the market. The rapid recovery of tourism consumption is a crucial driver for economic recovery and boosting confidence in tourism industry development. This conference aims to unite countries around the world to explore new concepts and practices in jointly creating new prosperity in the culture and tourism sector under new circumstances.
The conference features sessions of mayors' dialogue and thematic speech, which allows for insight sharing. During the mayors' dialogue session, discussions will center around "Innovation-Driven Consumption Growth of International Tourism Cities" and feature insights from Jantirar Abay Yigzaw, Vice Mayor of Addis Ababa, Ethiopia, Gao Wenqi, Vice Mayor of Changsha, China, and Khalid El Fataoui, Vice Mayor of Marrakech and President of the Chinese-Moroccan Friendship Association. In the thematic speech session, Maria Helena de Senna Fernandes, Director of Macao Government Tourism Office of the Macao SAR Government, will deliver a speech titled "Building a World Centre of Tourism and Leisure through 'Tourism+' inter-sectorial integration". Patrick Bontinck, CEO of visit.brussels, Belgium, will dive into the topic of "The European City Strategy towards a positive impact Tourism". Additionally, representatives from various enterprises will share their perspectives, jointly exploring how to create new prosperity in the culture and tourism industry, sharing insights, and proposing plans. Wang Wei, Senior Vice President of Trip.com Group, will talk about "Opportunities for Tourism Development under The New Consumption Trends"; Liu Yanxiang, Vice President of Meituan, will share insights on "Internet Stimulates the Vitality of Service Consumption". Chen Xiaoyun, Vice President of POP MART, will explore the topic of "The Value and Cross-sector Integration of Trendy IP". Li Xiaowan, General Manager of Baidu Information Distribution Platform, will deliver a speech on "AI Reshapes the World with Boundless Intelligence". Jiang Ying, Co-Founder and President of Scenery Culture, will share experiences in her speech — "From 'Illustrating Chinese Tales in Sceneries' to 'Illustrating the Worldwide Tales in Sceneries with a Typical Chinese Way'". Guido Brettschneider, CEO of TUI China Travel Co., Ltd., will share his insights on "Charting Tourism's Future: Trends and China's Prominence".
Authoritative Outcome Releases: Support Practice with Research
This conference will not only serve as an international exchange platform for the global tourism industry but also release important research outcomes, providing intellectual support to revive the global tourism industry.
During the conference, WTCF and the United Nations World Tourism Organization will jointly release Quantifying Tourism in City Destinations: Towards a Global Database of Urban Tourism. This report aims to address the lack of unified indicators and data sources for urban tourism. It evaluates the scale and value of the niche market of global urban tourism and provides data and intellectual support for sustainable and resilient urban development.
Additionally, the conference will release World Tourism Cities Development Report (2022). This report comprehensively analyzes 100 cities worldwide from six perspectives: city popularity, industry development, urban intelligence, tourism safety, economic contribution, and tourist satisfaction. It aims to fully and vividly showcase the development features of major global tourism cities and the tourism industry in 2022. This report serves as a reference and case support for the tourism industry when adapting to new circumstances, developing new formats, and formulating new strategies.
The World Tourism Cities Federation, initiated and founded by Beijing, is the world's first global international tourism organization centered around cities. Since its establishment, WTCF has dedicated itself to building platforms and promoting cooperation. Currently, its members have grown from an initial 58 to the current 242, covering 85 countries and regions worldwide, including 163 city members and 79 institutional members. Its branches have a total of 337 members among six branches. After years of development and its growing ability of appeal, service, guidance, and influence in the tourism industry, WTCF is certified as the fastest-growing international tourism organization in the world. As one of the summit forums of the CIFTIS, the World Conference on Tourism Cooperation and Development has evolved into a comprehensive platform for city and institutional members to deepen cooperation, share experiences, build consensus, and jointly promote the prosperity and development of the tourism industry.