【Introduction】:The World Travel Market (WTM) 2023 was held at ExCel, London from November 6 to 8. As a content partner of WTM, the World Tourism Cities Federation (WTCF) organized a themed panel discussion.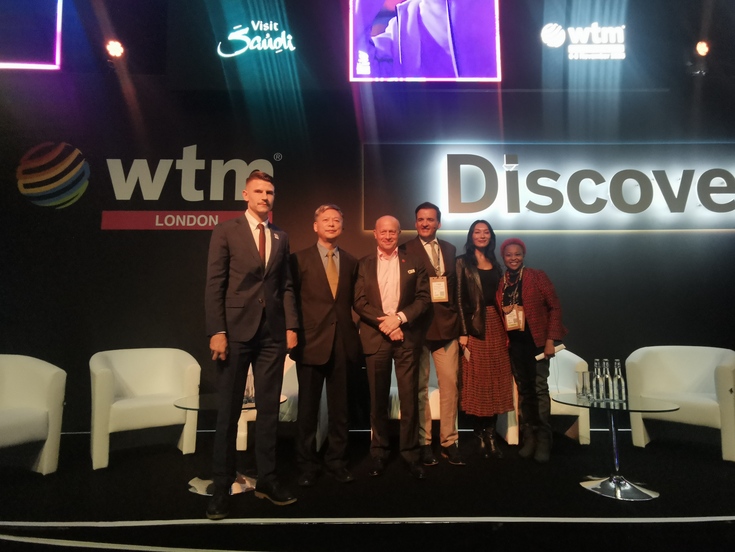 The World Travel Market (WTM) 2023 was held at ExCel, London from November 6 to 8. As a content partner of WTM, the World Tourism Cities Federation (WTCF) organized a themed panel discussion.
On the opening day, WTCF held a panel discussion themed "Harnessing Technology: Building Cities for SMART Tourism". Its primary focus revolved around leveraging science and technology as well as taking intelligent methods to contribute to the development of smart tourism cities. The aim was to explore solutions for utilizing technologies to empower cultural and tourism development and develop intelligent tourism cities, thereby achieving sustainable development for tourist cities and injecting new energy into the smart cultural and tourism sector. Li Baochun, the Deputy Head of Beijing Municipal Culture and Tourism Bureau, Ola Wright, the CEO of West Africa Tourism Organisation (WATO), Sholto Douglas-Home, the Chief Marketing, Communications and Sales Officer of Expo City Dubai, Santiago García-Dils de la Vega, the International Promotion Senior Executive of Sevilla City Office, and Ada Xu, the Regional Director (EMEA) of Fliggy, the travel platform of Alibaba Group, participated in the panel discussion as speakers, sharing their respective viewpoints and experiences.
Li emphasized in his presentation that Beijing, the headquarters city of WTCF and China's international center for sci-tech innovation, has persistently dedicated efforts toward establishing itself as a globally leading smart cultural and tourism city. In the development of smart cultural tourism, Beijing has enhanced policy support, improved regulatory systems, effectively allocated resources, as well as provided intelligent and socialized services for enterprises. By taking multiple measures, Beijing has seized the development opportunities presented by "sci-tech + tourism", actively promoting the application of technologies like artificial intelligence, big data, cloud computing, and virtual reality to offer efficient and intelligent city services to tourists and locals.
Douglas-Home shared Expo City Dubai's development experiences and emission reduction targets, stressing the essential role of science and technology in the sustainable development of cities in the future. Expo City Dubai is committed to outlining a blueprint for sustainable development in world cities, with science and technology being the key to achieving this objective.
Xu introduced Fliggy's smart tourism model during the COVID-19 pandemic, providing insights into the development of rural tourism in European countries. Through Fliggy's online live-streaming and digital travel guides, consumers can explore the world from their homes, thus contributing to local economic development.
García-Dils de la Vega shared Seville's efforts made to digital tourism development. Digital solutions are utilized in Seville to collect and analyze tourist data to actively meet the travel demands of tourists. Seville was recognized by the European Union as the "European Capital of Smart Tourism" in 2023, setting an example for global city tourism management.
Wright emphasized West African countries' efforts to build "smart cities", notably Lagos, which has made significant progress in building a smart tourism city. Moving forward, WATO will team up with Geotourist to gain deeper insights into the needs of tourists.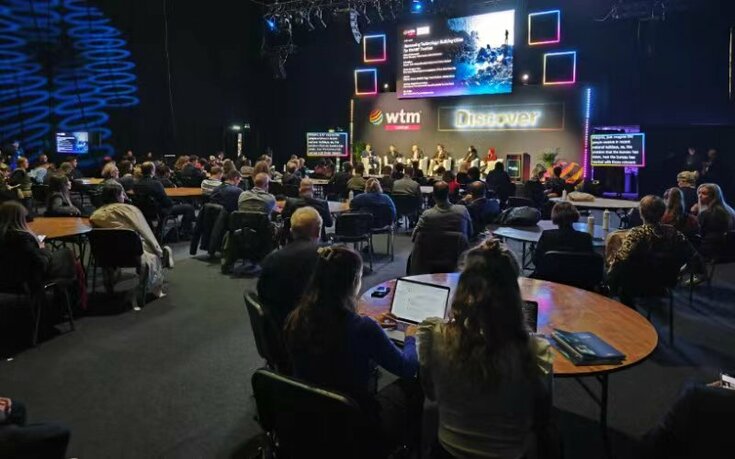 Relevant topics at the panel discussion provided the tourism industry with directional guidance and valuable, repeatable experiences to better understand the development of smart tourism, and offered references and assistance for tourism cities to better grasp the market changes and the development trends of smart tourism.
WTM is one of the most renowned global travel trade fairs, providing a platform to expand businesses and build partnerships within the global tourism industry. Every November, WTM attracts about 50,000 tourism industry professionals, government officials, and media participants, facilitating transactions estimated at over GBP 2 billion during the event period. WTCF has been invited to WTM multiple times and is fully engaged in organizing themed panel discussions and releasing its latest tourism research results to the world, dedicated to contributing to the development of the world's tourism industry.
Established in 2012, WTCF, initiated by Beijing, is the world's first international tourism organization focused on cities, comprising a total of 242 members across 85 countries and regions. Guided by the core vision of "Better City Life through Tourism", WTCF has developed a platform for its members to enhance cooperation, exchange experiences, and build consensus. Over the years, WTCF has significantly enhanced its attractiveness, service capabilities, leadership, and influence in the tourism industry, recognized as the "fastest-growing international tourism organization".